When it comes to the holidays we're sticklers for the traditions: The mulled wine, the carols, the open fires and festive trees and, of course, some of the best holiday shop windows in the world. To celebrate Modenus' newest trade show collaboration with Ambiente Frankfurt, one of the world's largest gift and table top shows, we dreamed up a contest that we hope will make you get you all warm and fuzzy and festive and triumphant.
Here's how it works:
Design and lifestyle bloggers in the USA and Canada are invited to nominate their favorite home decor, houseware and department stores that feature the most creative and inspired holiday decorations. Once you have nominated your favorite shops, be sure to get your friends, family and followers to vote for your entry. Our three prizes have been graciously offered by our friends at Villeroy & Boch and will be awarded based on the nomination with the most votes. But wait, there's more – our esteemed panel of judges consisting of bloggers, social media pros and retail shop owners will select one lucky blogger to join BlogTour to Ambiente in February 2015 from all entrants.
See all details, terms & conditions below:
Grand Prize: 
One spot on BlogTour Ambiente to Frankfurt Germany, Februry 12 – 17, 2015
First Prize: 
Dinnerware set for four, Amazonia Anmut, by Villeroy & Boch including serving and salad bowls. Retail Value: $826
2nd and 3rd prizes: 
Two mugs each of the Amazonia Anmut collection by Villeroy & Boch. Retail Value $100/set
Submit your nominations below by adding a link to the list or simply enter the shops name. Invite your friends, family and followers to vote for your submission as often as once daily. Contest ends Friday December 19, 2014 at 5pm EST.
The rules:
Contest not valid where prohibited. No purchase necessary. Prizes have no cash value and may not be exchanged or altered in any way. Winners of Villeroy & Boch items must be residents of the USA or Canada and will be notified by email/social media of their win. Winner of the grand prize must be resident of USA or Canada and must have a currently active interior design, home decor or lifestyle blog to qualify. Grand prize includes return coach airfare to Frankfurt Germany from an airport in the USA or Canada and five nights hotel accommodations in Frankfurt, most meals, ground transport and admission to all events. Contestants may be disqualified at Modenus LLC discretion. Contest excludes employees of participating exhibitors  and their distributors, dealers, affiliates, subsidiaries, representatives, advertising and promotion agencies, suppliers and the immediate family members and/or those living in the same household of each. By submitting your images you give permission for images to be published on Modenus.com and it's social media channels on Twitter, Facebook, LinkedIn, Flickr, Picasa and other platforms. Your personal information like email or phone number will not be revealed or shared with third parties.
AMBIENTE FRANKFURT HOLIDAY SHOP WINDOW CONTEST
Design and lifestyle bloggers in the USA and Canada are invited to nominate their favorite home decor, houseware and department stores that feature the most creative and inspired holiday window designs
Iconic Tiffany on Old Bond Street in London. One can only imagine how mesmerized I was when my stroll led me to the most lovely Tiffany jewel box Christmas windows. Romantic and quirky little life-like scenes were animated with life-size jewels. True fantasies they were in miniature and sparkling form.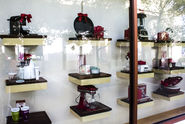 Taken at La Cumbre Mall in Santa Barbara, CA. Vote for me and I promise to rub the mixer for good luck on your behalf.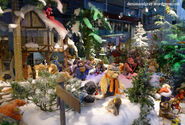 SUBMITTED BY LESLIE CAROTHERS:
Such adorableness and originality in Steiff's Chrismas window in Cologne, Germany - as photographed by Barcelona blogger Alice of http://denimandgray.com!
#lovetopieces!
Dec 17, 2014 - harrods.com -

788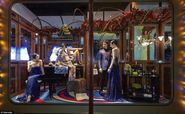 SUBMITTED BY SHARON MCCORMICK Harrods 2014 Holiday Homewares Window
I would love to spend one night living this life! The garland is dramatic. The paneling is exquisite. The bar cart twinkles. The piano is a stage. The colors pop. Bravo!
5
The Best #Holiday Decor Window 2014
Dec 16, 2014 - youtube.com -

839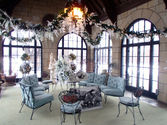 SUBMITTED BY PATTI JOHNSON Every year my family ventures down Memory Lane to a small shop in Rochester Hills, Michigan for the best in Holiday Decor Windows. It was always so much fun taking our children to Sherwood Forest when they were young, and we still enjoy this holiday venture visiting Sherwood Forest!
Dec 16, 2014 - jeffreydesignllc.com -

702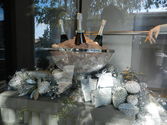 SUBMITTED BY JEFFREY JOHNSON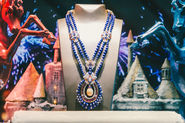 SUBMITTED BY LISA MENDE
Photos by Driely S. for Racked Looks like Van Cleef & Arpels is winning the holiday window race! The jeweler is one of the first Fifth Avenue shops to roll out its annual wintry display, although Van Cleef may be slightly ahead of the game because it has another occasion to commemorate-it's 75th birthday.
8
SUBMITTED BY LESLIE CAROTHERS: This gives new meaning to the object: #shoetree :)

SUBMITTED BY LESLIE CAROTHERS #Solesisters! If you love Loubotins and heart this window like I do, please vote for it. I can't walk in them like The Antiques Diva can, but I sure do love them!
9
SUBMITTED BY RITA ORRELL : It's an obvious one...so obvious I'm the first to post it! Every year Macy's has a "tradit...

10
SUBMITTED BY JILL SEIDNER: Christopher Guy Showroom
Holiday window display at the Christopher Guy showroom in Los Angeles.
Dec 06, 2014 - gonyc.about.com -

762

Located on 59th Street, Bloomingdales is one of New York City's most famous department stores, and their holiday window displays are worth a visit. Each year, Bloomingdales holiday window displays reflect a timely theme.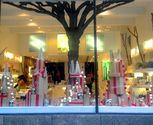 RAIN, a lovely shop, and one of my favourites on W49th and 6th NYC. The simple, organic nature of the Christmas window display perfectly illustrates the wares within.... handcrafted products using natural ingredients with African origins. I will be Christmas shopping at Rain.
Dec 05, 2014 - timeout.com -

805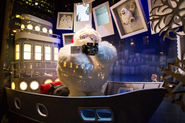 These iconic department-store window displays add some eye candy to your holiday shopping spree.
Dec 05, 2014 - timeout.com -

779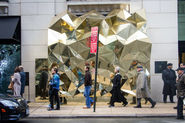 Photograph: Luciana Golcman Barneys holiday windows 2013 Walk by Barneys New York for a holiday view of fluffy woodland creatures and fantastical snow owls from the creative mind of writer and director Baz Luhrmann and his wife, costume designer Catherine Martin.

One of the most beautiful windows in our area each year is the Holt Renfrew Holiday windows. This year they were inspired by the Northern Lights. The windows are unveiled with quite a celebration near the end of November and are a delight to view. Unfortunately when I updated my phone I lost my images, so I have borrowed these from the Holt Renfrew website. The window is simply stunning.
Pictures c/o the Holt Renfrew Website